June 8, 2011- The Briana Marie Cox Foundation held its fourth, and largest, B's Benefit Bash at Seminole Palms, Okeeheelee, and Lake Lytal Parks this past weekend. 66 teams in 8 divisions competed on 13 fields and played a total of 157 games. Opening ceremonies Friday night featured remarks by Barbara Brewster Boivin, and a stunning rendition of our national anthem by Mariah Reirden. Thank you to the Lake Lytal girls softball program, our sponsors, all the participants, our volunteers, Palm Beach County Parks and Recreation Department, and the USSSA for making the weekend so awesome.

2011 Briana Marie Cox Memorial Fastpitch Tournament
June 3-5, 2011
~ TOURNAMENT RESULTS ~
8A – 8B – 10B – 12A – 12B – 14B – 16B – 18 Open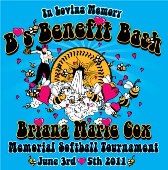 Thank You Sponsors!!!
Platinum
TD Bank
Cheney Brothers
Florida USSSA Fastpitch – Gordon Patterson
Security Self Storage – Lake Worth
Gold
Greg & Pam Gozzo
William & Kay Cox
Williams Family
Silver
Carefree Catering & Special Events
Cassidy Collier Insurance Services, Inc.
Uncle Kevin, Aunt Debbie & Brandi
Bronze
Busy B's Complete Homecare Services
Danny Boivin
David & Norma Cox
Deborah S. Lubell DMD PA
Labutka Family
Sharon & Roger Boivin
Wellington Wild Teams
Lake Lytal Softball
Wright Family
Special thanks to the Lake Lytal Lassie League for handling all our permits!!