November 1, 2008 – The inagural golf tournament featured 77 golfers competing for countless awards, prizes, and auction items.
Briana Marie Cox Foundation Golf Tournament a Huge Success!! 
The inaugural Briana Marie Cox Foundation golf tournament was held Saturday, November 1st, 2008 at Palm Beach National Golf and Country Club in Lake Worth. Threatening skies and rain gave way to glorious sunshine and an afternoon of fun, friends, food, and yes…even golf.
After warming up on the driving range and practice greens, 77 golfers took to the course in a fleet of golf carts for a shotgun start. After the rounds were complete everyone settled in to the country club dining area for a fantastic buffet dinner, awards ceremony, prize drawings, and live auction. Thanks to the generous support of our sponsors below, raffle participants, and auction bidders, the Foundation raised more than $7,000 to help those in need.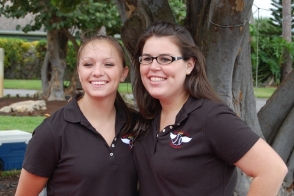 Karlie and Jena help at registration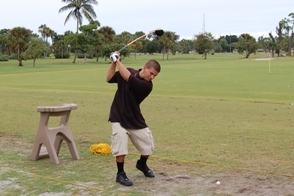 Brandon shows off his form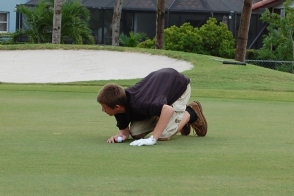 Reading the green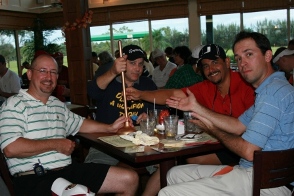 The Average Joes receive the "Golden Plunger" award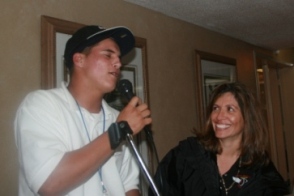 Kyle serenades Barbara with a rousing rendition of Lean on Me
Check out more tournament images by clicking on the image above (turn on your computer's speakers)
The Foundation is grateful to Palm Beach National, our tournament chairperson Mr. Danny Boivin, and our cast of volunteers for putting on such a great event.
2008 Briana Marie Cox Foundation Golf Tournament Sponsors 
Foursomes Donated
Aberdeen Golf & Country Club
Boca Grove Plantation
Boca Lago Country Club
Boca Raton Resort
Cypress Creek Country Club
Forest Oaks Golf Club
Frenchman's Creek Golf and Country Club
Gleneagles Country Club
Hamlet Golf Course
Hunters Run
Iron Horse Country Club
The Links of Madison Green
Mayacoo Lakes Country Club
Palm Beach Gardens Municipal Golf Course
Palm Beach National Golf and Country Club
PGA National
Wycliffe Golf and Country Club
Hole Sponsors
Annie's Hallmark
The Boivin Family
Briana My Angel – Nana
The Brewster Family
Carefree Catering & Special Events
Memories of "B" – Grandma Jodie
Hall Hardware
Intercoastal Electric, Inc.
Latux Diamond Blade Distributors
Jackie Manley
McGill Property Group
In Memory of Ron Rossow
RSM McGladrey, Inc.
Sky Tool & Fastener
The J. Stark Company – Go Broncos!
Town and Country Fence
Treasure Coast Financial Services
The Turcotte Family
Windmill Village Estates
W. S. Gaidosh Exterminating
Truck and Trailer USA/Jammin' Graphix
Cart Sponsors
Bermuda Landscape & Design, Inc.
Brandon Cox
Memories of "B" – Grandma Judie
Jena Huffstetler & Karlie Smith
Live Auction Items
Foursome at PGA National Resort
Foursome at Boca Raton Resort and Club
Foursome at Mayacoo Lakes
Foursome at Aberdeen Country Club
Golf Magazine signed by Jack Nicklaus
Hat signed by Greg Norman
Briana Marie Cox Foundation embroidered jacket
Team Prizes
1st place: Foursome at Frenchman's Creek Golf and Country Club
2nd place: Foursome at Iron Horse Country Club
3rd place: Foursome at Hamlet Golf Course
The Most Honest Score: Foursome at Cypress Creek Country Club