November 7, 2010 – Our third golf tournament was held on October 30, 2010 at Palm Beach National Golf and Country Club in Lake Worth and featured 60 golfers competing for awards, trips, prizes, and auction items, and was our most successful tournament so far raising $12,000 for the foundation.
Briana Marie Cox Foundation Golf Tournament a Huge Success!! 
The 2010 Briana Marie Cox Foundation golf tournament was held Saturday, Coctober 30th, 2010 at
Palm Beach National Golf and Country Club in Lake Worth.
After warming up on the driving range and practice greens, 60 golfers took to the course in a fleet of golf carts for a shotgun start to the scramble format tournament. This year's tournament featured a hole-in-one contest with a $10,000 prize. Unfortunately, there were no lucky hole-in-one winners but everyone who participated in the tournament left feeling like a winner. After the rounds were complete everyone settled in to the country club dining area for a fantastic buffet dinner, awards ceremony, prize drawings, and silent and live auctions. Thanks to the generous support of our sponsors below, raffle participants, and auction bidders, the Foundation raised $12,000 to help those in need.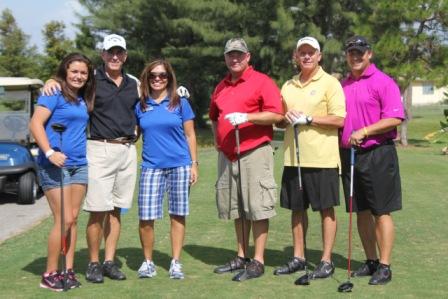 Becky and Barbara Brewster Boivin with the winning foursome!!
The Foundation is grateful to Palm Beach National, our tournament chairperson Mr. Danny Boivin, and our cast of volunteers for putting on such a great event. A special thanks to Prof. Ted Curtis and the Lynn University Sports Management students who came out in force to help keep things running smoothly.
2010 Briana Marie Cox Foundation Golf Tournament Sponsors 
Hole Sponsors
Busy B's
Keith R.Wolfe, DMD
Dontee's
John and Lisa Wright
Verna Cox
Dave and Norma Cox
ER Doctors
Brandon and Stephanie
Aunt Debbie
Jim and Marilyn Williams
Larry Schrier
Sharon and Roger Bovin<
Daniel Boivin
Town and Country Fence
Kelley Poyner
Brewster Family
Judie Cooper
Susan Russell (Aunt Susie)
Margiotta Family
All Clear Pools
Jupiter Aluminum
William S. Gaidosh Exterminating
Carefree Catering
Intercoastal Electric
Cart Sponsors
Jackie Manley
Dr. Feuer, DDS
Buroker Family
Becky Gaidosh
The Finch Family
Dr. D. Lubell
The Leber Family
Noto Financial
Jacquelyn Manley
Annie's Hallmark
The Reinstein Family
Pinch-A-Penny
Mark and Mary Leber
Tournament Prizes
Park Ridge
Delray Dunes (Boynton Beach)
Angel Nails
Golf USA
Massage Envy
Pine Lakes Golf Club (Stuart)
Palm Beach National Golf and Country Club
Duffy's
Gleneagles Country Club
Cheesecake Factory
PGA Golf Club Port St. Lucie
Colony West (Lauderhill)
Bear Lakes Country Club (West Palm Beach)
Boca Greens (Boca Raton)
Courtyard Marriott St. Augustine
Jacksonville Jaguars
Palencia Golf Club
Wet 'n Wild (Orlando)
Doral Country Club Golf Resort (Miami)
Bocaire Country Club (Boca Raton)
SeaWorld
Palm Cove Golf and Yacht Club (Palm City)
Doubletree Resort
Miami Dolphins
Disney World
Palm Beach Singer Island Resort
Regal Sun Resort
Florida Marlins
Aberdeen Golf and Country Club (Boynton Beach)
Willoughby Golf Club (Stuart)
Celebration Cruise Lines
Windermere Country Club (Orlando)
Boca Raton Resort and Club (E. Camino Real)
Delaire Country Club (Delray Beach)
Crowne Plaza Hotel (Orlando)
The Club at Emerald Hills (Hollywood)
Timacuan (Lake Mary)
Massage Envy
Daytona Beach Resort
Orange County National (Winter Garden)
Four Florida Panthers
Suntree Country Club (Melbourne)
Ft. Lauderdale Beach Resort
Hunter's Run (Boynton Beach)
Hammock Beach Resort (Palm Coast)
Busch Gardens
Highlands Reserve Golf Course (Davenport)
Marsh Creek (St. Augustine)
Inn Destin Harbor>
Plantation Preserve Golf Club (Plantation)
Golf Garden (Destin)
Ridgewood Lakes Golf & Country Club (Davenport)
Iron Horse Country Club (West Palm Beach)
Juliette Falls (Dunellon)